About Amy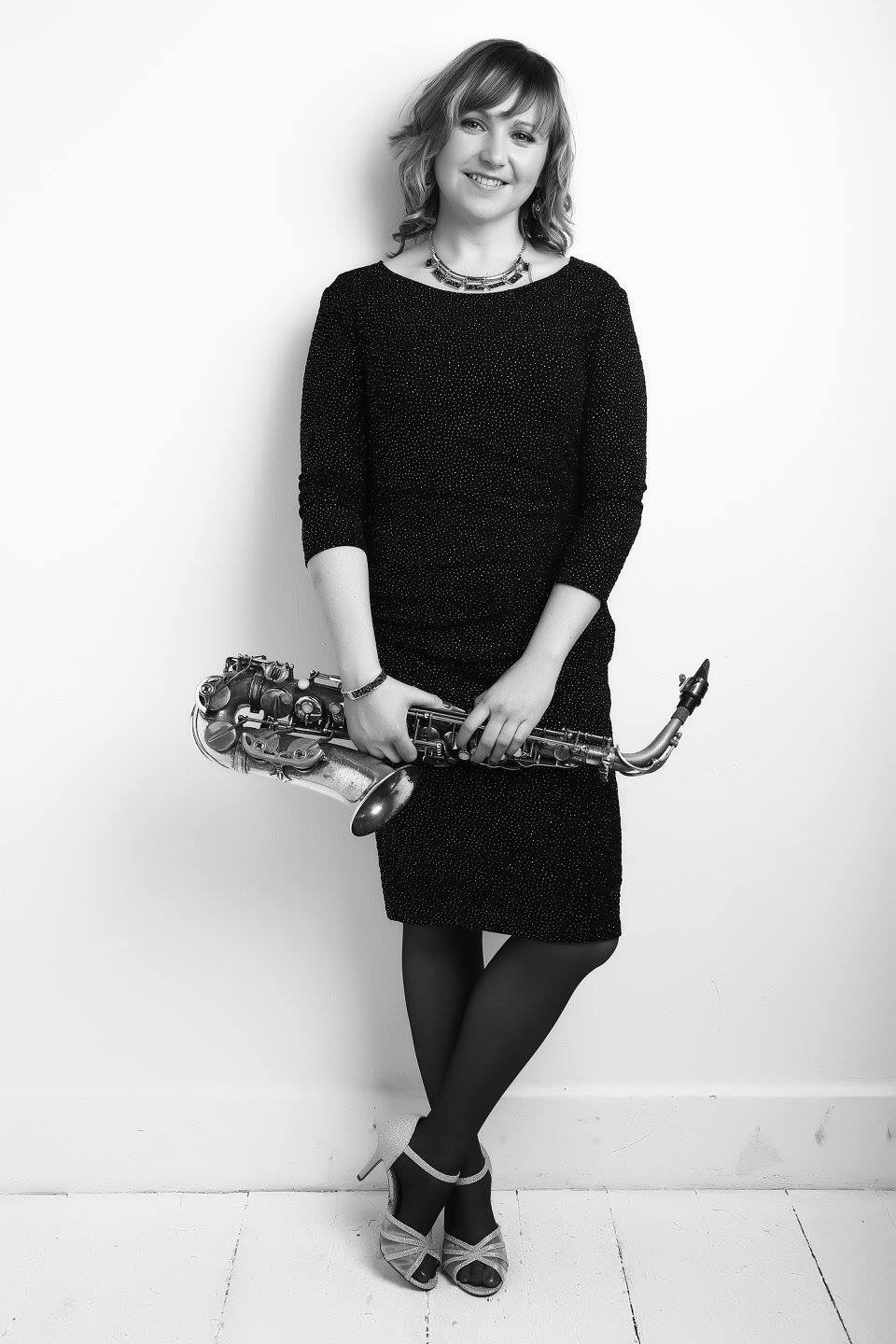 Amy, from near Penzance, West Cornwall, is a multi award-winning flautist, clarinettist and saxophonist now based in Northamptonshire.
Voted winner of the Miscellaneous Category in the 2015 British Jazz Awards, and the Rising Star Category in the British Jazz Awards in both 2009 and 2011, Amy has earned an enviable reputation throughout not only the UK but also abroad.
She has worked in prestigious venues and festivals all over the UK and across Europe and has become known on the jazz circuit as a charismatic performer. Amy currently leads several bands which feature some of the most exciting musicians on the jazz scene. She also regularly makes guest appearances with other highly acclaimed ensembles and internationally celebrated orchestras.
In 2007 she was offered a place to study classical saxophone at the prestigious Royal Northern College of Music in Manchester. In July 2011 she graduated with a First Class Honours Degree, and was awarded a high mark of 89% in her final recital held in the RNCM Concert Hall. She studied saxophone with Rob Buckland performed with the RNCM Big Band under the direction of Mike Hall. Amy was featured with the RNCM Big Band performing the Artie Shaw Clarinet Concerto in December 2010. During her final year of study, she was awarded the Martyn Edwards Bursary which was a scholarship for outstanding jazz performance. She was also selected as the only woodwind student to perform in the finals of the RNCM Gold Medal Competition, the highest level competition at the college.
She has been involved in jazz education as part of the Best Of Young Jazz Project from 2009 to 2015 as a mentor for young people in the Worcestershire area. During the scheme Amy worked alongside phenomenal bass player and educator Steve Berry, to inspire and teach the students taking part in the BoYJAcademy. She has also been involved in educating young saxophonists in Anglesey during their Summer Residential Course in 2011 and 2012 run by the Local Education Authority.
Amy was honoured to be featured and used as a 'cover girl' in the Autumn 2011 Clarinet and Saxophone Society Magazine, after being interviewed by upcoming writer and musician William Upton. She has since been a featured artist in JazzWise, PhoneBox, Lady, Just Jazz Magazines and various newspapers, as well as taking part in interviews on several regional BBC radio stations, PlayjazzUK, Harrow Radio and RadioNeneValley.
In January 2011 she became the first female musician in history to join the Big Chris Barber Band and spent four years touring with them throughout some of the most highly regarded concert venues in Europe. Some highlights of being in the band include a 3 day stint at DunluceCastle in Northern Ireland as the support act for Van Morrison and his band, and playing live for TV in Stuttgart, Germany. At the end of 2014 she left the Barber band to focus on her own career.
As a freelance musician Amy's performances have included concerts with the Pasadena Roof Orchestra, Matthew Herbert Big Band, Pete Long's Echos of Ellington, Keith Nichols Blue Devils Orchestra and Harry Strutters Hot Rhythm Orchestra. With the London Swing Orchestra Amy has performed all over the UK as well as in Monaco, Greece and Switzerland.
She has been lucky enough to play alongside highly regarded musicians including Alan Barnes, Bruce Adams, Remi Harris, Roy Willliams, Greg Abate, Mike Hall, Enrico Tomasso, Jeff Barnhart (USA), Chris Farlow, John Crocker, Andy Fairweather Low, and many more.
In 2016 she was part of a special band put together to support the incredible talent Alex Vargas, an R&B Soul singer from Los Angeles, USA during his trip to the UK. She's also part of powerhouse trombonist Ian Bateman's soul and funk group "Kick Ass Brass" on baritone sax and piccolo.
Amy's current projects include the 'Magnificent 7 Jazz Band', 'The Hallam/Roberts Jazz Five' and the 'Richard Exall/Amy Roberts Quintet'.
During 2014 The Magnificent 7 Jazz Band released their debut album "The Good, The Bad and The Ugly!" and 2015 brought the release of their second album "A Jazz Odyssey", an eclectic CD which takes no prisoners.
The Richard Exall/Amy Roberts Quintet's first album was "Why Not" and in 2016 they released a new CD dedicated to the music of Earl Bostic and Johnny Hodges - "Hodge-Stic"! The 'Richard Exall/Amy Roberts Quintet' was delighted to be voted "Band of the Year" at the Rochdale Jazz Society for 2014!
Amy was delighted to be invited to play flute as part of multi-Grammy award winning American trumpeters Terrance Blanchard's band "The Inner City Ensemble" during their UK 2016 tour.
2017 was full of exciting opportunities, including performing gigs at the North Sea Jazz Festival in Rotterdam, Holland and in Antwerp with the incredible Matthew Herbert Big Band. Amy also performed in Sweden this year with American banjoist Cynthia Sayers International Band "Women of the World".
In September 2017, the Amy Roberts/John Hallam Band were voted "Band of the Year" by Rochdale Jazz Society!
During November 2017 Amy performed at the London Jazz Festival as part of a Dectet run by Issie Barrett, called 'Interchange', which includes the UK's finest female contemporary jazz musicians.
An exciting new project to be launched during 2018 will be the 'Amy Roberts Quartet'.... Their gig at this years Pershore Jazz Festival with feature David Newton on piano, Nick Millward on drums and Ashley John Long on bass.