Amy has recorded various albums over the past few years. They are available to purchase via the following Paypal links.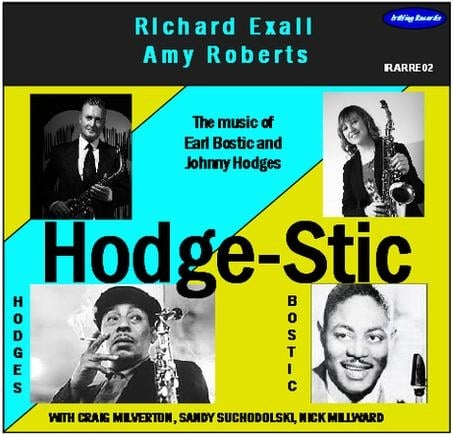 Hodge-Stic
The music of Earl Bostic and Johnny Hodges
Irthling Records: IRARRE02
Recorded, mixed and mastered by Chris Tilke, 2016
Total playing time: approx 67m
Cracked Ice; Jeeps Blues; Special Delivery Stomp; Below The Azores; Deep Purple; Sophisticated Lady; Squatty Roo; Where Or When; Tenderly; Eight Forty Five Stomp; The Jeep Is Jumping; Mood Indigo; Flamingo; Isfahan; Hello Dolly
Amy Roberts (flute, clarinet, alto and baritone saxes), Richard Exall (alto and tenor saxes, clarinet, arranger), Craig Milverton (piano), Sandy Suchodolski (bass), Nick Millward (drums), Steve Vintner (vibraphone)
First of all, I must admit that I am not an expert on Earl Bostic or Johnny Hodges. For that matter, I'm not really an expert on anybody or the type of jazz they play. I just know what I like, what I think is good and not good! So, before we start, let me tell you that I think this CD is good – in fact, bloody good – and very enjoyable. Another gem from Richard, Amy and the boys; a couple of new faces here – Sandy Suchodolski (bass) and Steve Vintner (vibes).
The sleeve notes are very informative. Here are a couple of quotes:
'Earl Bostic, being a pioneer of the early American rhythm and blues style of music, is much overlooked by today's jazz fraternity. He was commonly regarded by jazz musicians at the time (John Coltrane and Charlie Parker included) as a supreme jazz saxophonist who could outplay anybody else in a live gig situation…'
'Johnny Hodges gained fame through the ranks of the Duke Ellington Orchestra, with his smooth solo saxophone style becoming a trademark for both himself and the Orchestra…'
As indicated earlier, this CD review is not so much about comparisons; it's about whether I like it or not – of course, I do recognise the playing of Hodges and Bostic, but not enough to get 'technically' involved…
The first track, an up-tempo Cracked Ice, sets the tone; good jazz, great overall sound, well arranged and, above all, it swings. Richard and Amy, as usual, straight in at the deep end! I nearly fell off my chair at the thought of (and trying to mimic) Amy and Richard's incredible synchronised breathing between phrases – some lasting over four bars, and not a lot of time for breath in between! Great stuff…Into Jeeps Blues: some real good, 'funky' piano from Craig Milverton, and nice 'walking' bass from Sandy Suchodolski, and a solo that shows he is no slouch! Steve Vintner swoops into a lovely solo on vibes in Special Delivery Stomp, demonstrating that (on this CD, at least) piano and vibraphone work very well together, not crowding each other out! Straight into Below The Azores, featuring some great flute from Amy; with once again, as on previous CDs (to me anyway) a delightful tinge of Casablanca. Super alto sax from Richard on Sophisticated Lady, with wonderfully inventive piano from Craig.
A (nice) revelation with Amy booting along great on baritone sax in one of my favourite tracks, Squatty Roo; and Craig's solo piano is great – mad (correct!) chords-a-plenty!! Some very important information here – my son Jamie has a really nice cat named Roo. Some great solo work from Nick Millward, who is certainly not squatting; neither is Richard on his alto sax finishing note in Where Or When!
Eight Forty Five Stomp romps along nicely, with some interesting riff work to boot (especially during the piano solo), followed by Richard's ever-great tenor sax on The Jeep Is Jumping. Never in the field of jazz has Mood Indigo been played so many times by so many bands; but here is a version to just sit back and enjoy. Richard and Amy oozing sweet and mellow clarinet throughout. Lovely feeling, lovely tones…The CD finishes with a splendid version of Hello Dolly – another of my favourite tracks. It has such a totally relaxed feel…going nowhere in a hurry…just as it should be.
A really enjoyable CD. Everything swings; great arrangements, wonderful technique throughout by all, some nice 'quirky' bits, but most agreeable for me, a feeling of warmth, charm and humour coming through…
Highly recommended!
Just Jazz Magazine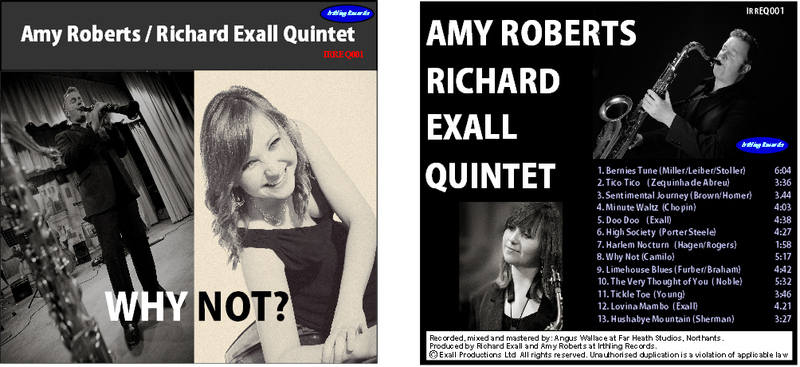 WHY NOT?
Bernies Tune; Tico Tico; Sentimental Journey; Minute Waltz; Doo Doo; High Society; Harlem Nocturn; Why Not; Limehouse Blues; The Very Thought Of You; Tickle Toe; Lovina Mambo; Hushabye Mountain
Amy Roberts (flute, clarinet, alto sax), Richard Exall (clarinet, tenor and alto saxes, vocals, arranger), Neil Angilley (piano), Bill Coleman (bass), Adam Riley (drums)
This is the first CD by the Amy Roberts/Richard Exall Quintet, and terrific it is too, right from the first note to the last…maybe it could have been called 'Straight in at the deep end – no messing!' Straight in, indeed, with a meaty, really swinging version of Bernies Tune. DNC (definitely not Colyer), but I wouldn't mind betting that he would have approved – he liked most, so long as it was good – Swingle Singers included.
Back to Bernies Tune. This tune really sets the stall for the whole CD, with some fine tenor sax by Richard, great flute from Amy, and wonderfully unrelenting 'walking' bass from Bill Coleman, who, together with Neil Angilley and Adam Riley completing the superb rhythm section on piano and drums respectively, drives and swings it all along, seemingly effortlessly. Sounds more like an octet than a quintet – must be Richard's arranging!
Next up, Tico Tico: a very nimble and tight arrangement, illustrating the obvious skills both Amy and Richard have on their instruments; once again great flute – and lovely clarinet from Richard. Also a thoroughly good, mad piano solo, sounding to me like a fusion of Errol Garner, Fats Waller and Thelonious Monk – brilliant is the first word that comes to mind! The tune (a Samba, I believe) has a lovely Caribbean 1950s feel about it. Humphrey Bogart and all that stuff…I love it.
Sentimental Journey is very bluesy, going nowhere in a hurry. Super 'funky' bass solo from Coleman. Also quite simplistic (again 'walking') bass throughout, but always just at the right time hitting that bottom C, the front line 'bouncing' off it beautifully. Great stuff, ending with a full, powerful chord – nothing fancy – just the perfect choice of notes, which is easier said than done!
Minute Waltz: Classic(al) jazz at its very finest. Absolutely stunning! Followed by a nice spicy Latin Doo Doo, written by Exall, who solos on some wonderful tenor sax. Great drum solo, too: funky rhythms with a Thelonious-type piano riff throughout.
High Society is taken at a very relaxed tempo – all the bits and pieces – great street-beat! Nice to hear the usual suspects playing together rather than in competition with each other…some nice piano thrown in for good measure.
The title track Why Not, described in the excellent sleeve notes by Jeff Barnhart as 'a mouth-watering fusion of Funk and Latin'. Couldn't have put it better myself! Fairly up-tempo, lots of 'jumping' the beat and cross-rhythms (I love all that!), particularly when it is right, which it certainly is here. The whole number is a hot spicy mix of – well, hear it for yourselves! And yet more great, sometimes mind-boggling, piano by Cornishman Neil Angilley…
For me, one of the highlights of this CD is The Very Thought Of You. The whole number is so relaxed, 'smoky' if you like, with Richard oozing some of best tenor sax ever, maybe (I am not an expert on this) slightly in the style of Ben Webster? I could imagine a sultry Amy swooning in the background – very Casablancaesque. Once again, great 'walking bass'. Also, a lovely vocal from Exall: no histrionics – just good (bloody good) singing.
Amy and the boys take it out with a beautiful tune, Hushabye Mountain, from the film 'Chitty Chitty Bang Bang'. A great rendition, wonderfully played by Miss Roberts on the flute with much feeling and sensitivity.
I must apologise (through lack of space) for not mentioning all the tracks – suffice to say they are all terrific, very diverse, very atmospheric, well played, and very importantly, well balanced. Also, the Quintet establishes its own unmistakable sound. Buy this CD!!
Jim McIntosh - Just Jazz Magazine